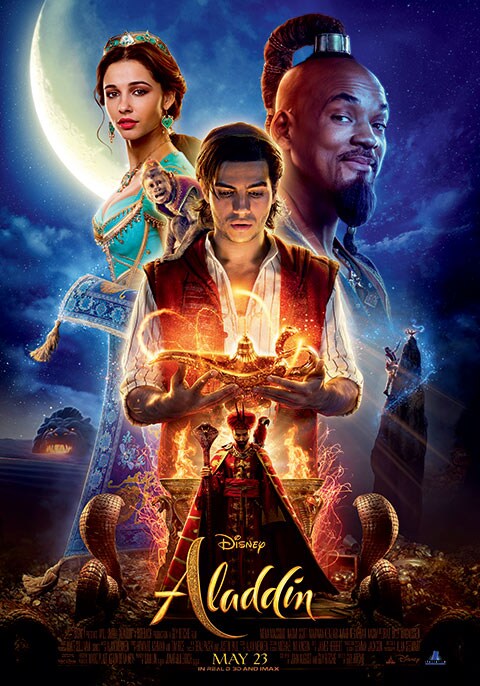 Aladdin is a lovable street urchin who meets Princess Jasmine, the beautiful daughter of the sultan of Agrabah. While visiting her exotic palace, Aladdin stumbles upon a magic oil lamp that unleashes a powerful, wisecracking, larger-than-life genie. As Aladdin and the genie start to become friends, they must soon embark on a dangerous mission to stop the evil sorcerer Jafar from overthrowing young Jasmine's kingdom.
Thoughts
I love it! This movie is something. It's magical and everything was just perfect. Okay, I haven't watched the Disney cartoon yet but this is just too beautiful. I was smiling, maybe not all the time, but most of the time. My heart can't stop pounding even after watching the whole thing and I managed to even watch the credits at the end because the music adds up to all the craziness I was feeling at the time.
Aladdin (Mena Massoud) was so handsome — at least for me — the first time I watched the trailer of the movie, I was already attracted to him especially with his dimple right there on his gorgeous face. I also find Princess Jasmine (Naomi Scott) attractive for a girl. Even though I am a girl myself, I can't help but get mesmerized at her while watching the whole thing. Genie (Will Smith) was so funny and entertaining that I couldn't help but cheer him up especially at the ending.
I personally love the soundtracks of the movie aside from the 'A Whole New World'. And now I realized how much I love musical movies after this and 'The Greatest Showman'. And I just love it! Oh, did I said that already? Well.
I won't be going on with plot like the usual but I wanted you all to watch it to tell what I was telling you. Aside from the characters' physical appearances and personalities, their acting were superb! Aladdin and Princess Jasmine's chemistry was definitely there and, Genie and Delia's story was something to look forward to as well.
I also wonder if Genie was the same as Jafar (Marwan Kenzari) before he became a genie. You know, with what happened to Jafar and all in the end, I can't help but wonder if Genie was something of the dark side before.
I also like that they stick with a black characters rather than the all-white characters in Hollywood which was something I really enjoyed. My favorite soundtrack would be 'Speechless' which was sang by Princess Jasmine. I really love that part of the movie, aside from 'A Whole New World', of course, because I definitely love that above all.
I heard the recording of the track and I love the one on the movie itself because of the emotion it gave me while watching and listening at the same time. I think the recorded one was a little lacking in emotion. But well, I still like it, though.
My favorite part would be, of course, Aladdin and the Genie's meeting. It all started in there and I found the scene magical itself. Genie was really funny and I thought Mena was good in dancing, I see.
So, I suggest you go watch it now and stop reading. You will enjoy watching it rather than me telling you what happened.
Rate 6/5, kidding, 5/5